← Quay lại
Digital solutions expected at Viet Solutions 2021 for dual target
Major General Lê Đăng Dũng - Acting Chairman cum General Director of Viettel Group spoke about new things in this year's contest.
Viet Solutions 2021 has many new changes compared to 2020. One of which is finding ideas for information and technology (IT) products and applications. What is the reason for this change?
Last year, Viet Solutions' target was to find solutions and specific products, even products that have already been formed. But after using the products, we've found that those developed by small businesses are often not completed because they are not qualified to develop them.
Meanwhile, the MIC and Viettel Group think that a breakthrough creative idea is crucial. Once we have an idea, we can develop it together into a product. Viettel have the resources to help small firms create more complete and quality products.
That is why in addition to complete solutions and products, Viet Solutions this year also seeks ideas from technology businesses and start-ups. In general, we will have more and better ideas when we have socialisation.
I emphasise that the help of Viettel, including great resources and support from the idea period, will bring much greater efficiency than small businesses creating unfinished products themselves.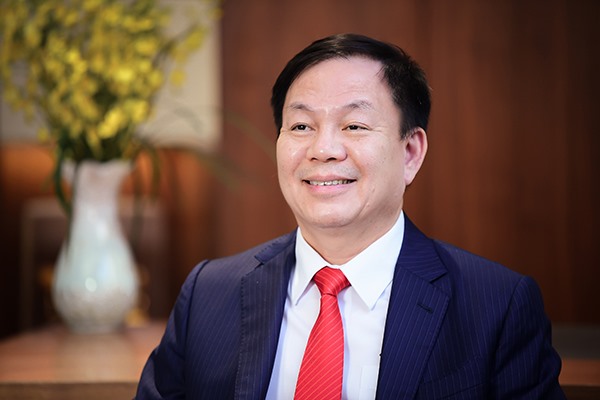 Major General Lê Đăng Dũng - Acting Chairman cum eneral Director of Viettel Group
However, it must be noted that, the contestants with their ideas have to show a demo, realising their ideas with certain practices. In short, if the idea is to make a car, although it has not yet become a car, it must have a model that knows how to run and can be intelligently controlled. There must be a demo to prove that the idea can be turned into reality, so that investors believe it will become a useful product for society.
Another change in this year's competition is the addition of the Business Management field. Why is that?
The Government has set policies and a legal framework to build a digital society. However, businesses take the most important role and will be the key factor for a digital society. Only digital firms can build a digital society. This is the reason that we pay attention to digital solutions for business management. Only when all Vietnamese businesses become digital can they hope to build a Vietnamese digital society. There is no such thing as a digital society where businesses are traditional. That's why we added this field to the contest.
According to the announcement from the organisers, specific problems of the ministry and Viettel's Corporations will be presented as the contest's topic. Can you tell us more about this?
MIC wants to focus on solving the problems of society.
In our opinion, in fact, the ministry takes the responsibility in building policies, researches social issues, and creates a legal corridor. Viettel, which is a business, based in reality and serving customers, will understand society's demands.
Therefore, policy-makers and Viettel with practical understanding will know the most necessary things. The contest this year requires more specific issues than the previous year.
Of course, each problem will have many solutions. The important thing is that after the competition, we find the best solution. In the jungle of ideas, there are many unrealistic ideas. To be more effective and realistic, we need to be more specific and have more practical meaning.
Digital solutions expected to achieve dual target
With such changes, what do you expect from Viet Solutions this year?
Data from the contest in previous years showed that the participants are more diverse with the number of projects increasing 60 per cent year-on-year. We have sponsored many projects and created products to serve society. There are products that are suitable for digital transformation. For example, the Map4D solution has been applied to the field of logistics and digital tourism, serving each individual when looking up maps.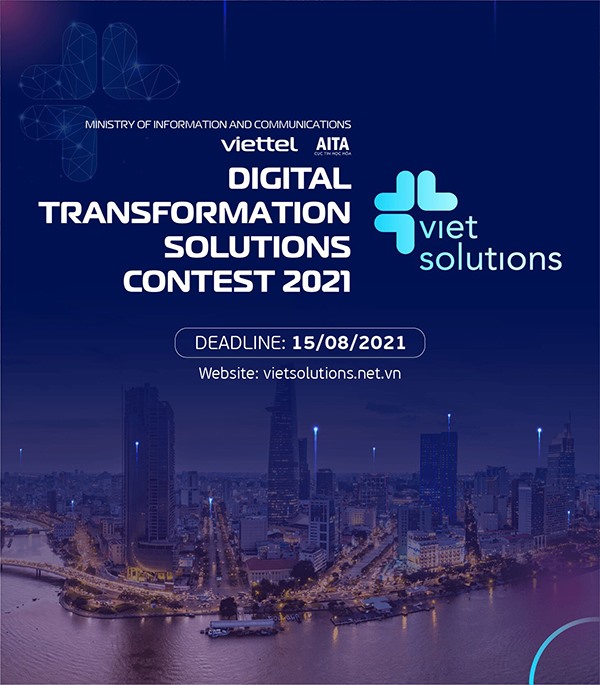 Based on that result, I believe that this year, when the problem is clearly defined, serving the goal of digital transformation, the results will definitely be better.
This "better" criterion is reflected in two aspects, including more projects and participants and more ideas turned into good products to serve life more effectively.
The contest was launched at the time when Viet Nam was at the peak of the fourth COVID-19 wave since 2020. Does this situation make the competition difficult?
I think the contest's criteria and methods were already introduced to people, especially technology start-ups. Therefore, the launch at this time is not strange to businesses and scientists.
Besides, during COVID-19, we have changed habits as many activities have been moved online. Introducing a contest and organising an online community is not difficult.
More importantly, I think, it is the launch of the contest during the pandemic that can help find many ideas about digital products that serve the dual goal of fighting COVID-19 but still developing the economy. Viettel's previous experience has shown that, in difficulties, breakthrough ideas and unbelievable efforts will help us develop.
What does Viettel usually look for in start-ups participating in Viet Solution? Flexibility, quick adaptation or breakthrough ideas?
Viettel's biggest desire at this contest is to find breakthrough ideas and properly solve the current problems of society.
Many people think that small businesses are flexible, but we have proven that big businesses like Viettel are also flexible. We installed thousands of cameras in just three days, then deployed telehealth solutions for thousands of hospitals across the country in just over a month. With the unique characteristics of Viettel's people and powerful resources, we can deploy the projects faster.
However, it is different for breakthrough ideas. There are big businesses and organisations in the world such as NASA (in the US), for example, they have many great minds of the world. However, when they have problems that are difficult to solve, they also organise competitions in society and get a lot of better, smarter, and much more effective solutions than the savants sitting there.
After a year of organising Viettel Advanced Solution Track and Viet Solutions, how is Viettel's support during and after the contests for participating start-ups?
In recent years, we choose 5-10 per cent out of nearly 600 projects participating in the contest for co-operation. After the contest, Viettel selected and supported those projects with about VNĐ20 billion each.
Last year's award-winning projects such as MiSmart's drone to spray pesticides and Map4D digital map were given VNĐ20 billion each. We appreciate many solutions, creating effective products for the community, serving the right purpose of building a digital society in Việt Nam.
Last year, Viettel's leaders said the winning enterprise is not necessarily the winner. By participating and taking advantage of the opportunity from the contest participants also reap a lot of benefits. Are there any specific examples?
Each year, according to the contest's criteria, the organising board only selects three businesses to win the prize. But in the last round, we always choose 20 businesses. All of them have the opportunity to co-operate with Viettel to develop products and apply them in practice. Even among those who were eliminated in the first round, some products do not pass but good ideas can still be used. This year, I recommend that in addition to the Top 20, we can choose more. If people have ideas that are usable, we could help complete them.
Collaboration to create new value for the community
The incubator model consisting of State management agencies, large corporations and individuals with technology solutions is a new point of Viet Solutions compared to other innovation competitions. After a year of implementation, how do you evaluate this model?
The main idea of this model is resonance to build a digital society. Collaboration means finding a value of each side and creating synergy for those values, creating new greater value for the community.
Viet Solutions has three involved parties. The Ministry of Information and Communication plays the key role of creating a legal corridor, providing requirements and conditions for businesses to participate in solving that problem. Viettel provides financial resources, human resources and management support experience for small businesses and start-ups on the market. The third party is digital technology enterprises and start-ups with ideas, solutions and products that properly solve the issue set by the ministry and are suitable for businesses in the market.
Such resonance, of course, will create products that properly serve the construction of a digital society in the most practical fields.
From Viettel's experience in participating in many large digital transformation projects in Việt Nam, what do you learn about the role of the "leading firm" in combining individuals and start-ups to create new values?
If it is called the leading firm, it must of course have two meanings.
One is to take the lead and to be the main force. Viettel has been a pioneer in the country's digital transformation, but more importantly is the main force. This digital transformation must always be based on telecommunications infrastructure. We are a network operator. It is imperative to build a large, high-quality telecommunications infrastructure. For example, 4G in the past, and 5G in the future, it is the most important platform for any digital transformation and any technology business must rely on this platform.
We also build an Internet of Things (IoT) and Big Data information technology platforms that small businesses can partially apply.
Secondly, with Viettel's experience, when we have worked to form a community together, we completely trust and inspire businesses to dive into this work.
That is the role of the leader. n
Box: With the message "Collaboration to create a digital society", the Viet Solutions 2021 for individuals, businesses, and organisations around the world aims to find creative solutions to healthcare, finance, banking, agriculture, and transportation issues, and contribute to the national digital strategy.
Notably this year, the MIC and Viettel Group will search for solutions to specific problems in the ten fields that were posted at www.vietsolutions.net.vn. The deadline for the entries is August 15, 2021.
The contest's winner will receive a cash prize of VNĐ300 million (about US$12,000); meanwhile the second and third prize winners will be awarded VNĐ200 million and VNĐ150 million each, respectively.
The best teams in the qualifying round will be trained to improve their startup skills by experts from universities such as Harvard, the International Angel Fund, and many famous CEOs.
Since its debut 2 years ago, the annual Viet Solutions contest has attracted 600 solutions.
---
---